We are dedicated to bringing out the soul of underground culture in the city of bridges and helping build a community interconnected with the elements beneath the surface. Our goal is to promote collective creativity through a fluid intersection of people, places, ideas and vibrations. In doing so, we seek to connect independent arts and culture to the urban development of Pittsburgh and unlock the potential energy through the poetry of people in motion....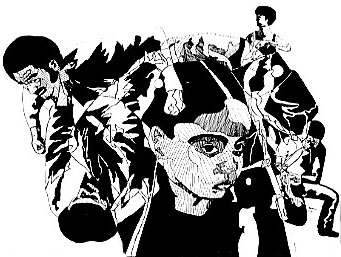 Momentum
Sat Sept 13th | 10pm
@ Shadow Lounge
new Aug 28th
, 2003

Update

– WE'RE BACK ONLINE
!
Our web hacks are back from their vacations and have been burning some grease to bring another massive update online. It's been quite an effort taking everyone's feedback, suggestions, and emails but that's what this website is. It's largely the product of your ideas - we do not solicit nor do we accept any advertising or revenue for this website.
element 5
is a community based project and collective.
Your continued feedback is important to us as we continually improve our website to bring you up to date cultural and community info. Please feel free to drop us a message anytime - element5ive@yahoo.com
. A quick list of new things you'll find on this website: In addition to our weekly event picks and community message listing, you can now find links message boards, email lists from other arts + culture collectives, new audio links, job hunting resources, and much more. Also, feel free to explore the continually expanding Culture section of our website.
Feedback: element5ive@yahoo.com
Community News/Info Email-lists Event Picks
Community:
New Messages:
·
new
C
ommunity Message Archive
·
new
C
ommunity Message Archive
Archives:
If you've got a community message to share, email us :
News/Info
· pulp
· pittsburgh independent media center
Email-lists
· Ground Zero [Aug 27th, 2003]
· Bridgespotters [Aug 25th, 2003]
· Emayhem [Aug 25th, 2003]
· Penn Avenue Arts Initiative [Aug 27th, 2003]
· Pitt Arts [Aug 27th, 2003]
· Greater Pittsburgh Arts Alliance [Aug 27th, 2003]
· CLOH.org [Aug 27th, 2003]
· element 5 [archive]
Events
Picks of the Week [Aug 28th - Sept 3rd]:
[This page is updated every Thursday] | Feedback: element5ive@yahoo.com
Live Music:
Film:
Theater:
Art:
Club:
Event Calendar:
Feedback: element5ive@yahoo.com