element 5 + the warhol:
present...
deFLOWERed:
the Garden of Earthly Delights AfterParty!
the official AFTERPARTY for The Warhol: 10th anniversary Kick-Off and Opening Exhibition for
"Flowers Observed, Flowers Transformed"
Saturday, May 15, 2004
10pm - 1am
@ The Rubinoff Building
(aka the Alcoa Business Services Center - the big glass building next to the Andy Warhol Museum)
near the intersection of Sandusky and General Robinson St. [Northside] | Map / Directions

featuring internationally renowned
DJ Neil Aline (Chez Music, NYC)

and
vocalist AYA (Naked Music, NYC)

with element 5 DJs
Soy Sos (3 Generations Walking) and Jwan Allen (Technoir Audio)
Video Installation by Feedbuck Galore (Belgium / NYC)
Sponsored by:
The Penn Brewery + Absolut
Tickets: $25 for the element 5 After Party
(admission is included for attendees of the Garden of Earthly Delights Opening Party
at the Andy Warhol Museum, 7pm-10pm. Tickets for the entire evening are available for $75)
Info + Tickets: 412-237-8300
Reserve your tickets now to avoid disappointment at the door
Pittsburgh Visitor + Accomodation Info:
Pittsburgh International Airport - http://www.pitairport.com
Taxi Services - http://www.thecityofpittsburgh.com/taxi/
Pittsburgh City Info - http://www.pittsburgh.net
VisitPittsburgh.com - http://www.visitpittsburgh.com
Pittsburgh Hotels & Lodging - http://www.city.pittsburgh.pa.us/portal/lodging.html
Pittsburgh Bed + Breakfasts - http://www.pittsburghbnb.com/
element 5 >>> PGH City Guide - http://www.elementfive.info/pghcityguide.html
element 5 would like to extend a warm welcome to our friends + guests from around the world visiting the City of Bridges (Pittsburgh, US).

DJ NEIL ALINE :
Born in Tahiti, raised in Paris, now living in New York City, Few have done more for NYC's nightlife week in and week out than Neil Aline. Whether he's DJing at one of his numerous weekly gigs or putting out new music on the CHEZ music label, Aline has his hands deeply involved in all aspects of New York dance culture. As a DJ, his sets span everything from deep house to vocals, disco tracks and deep tribal excursions, all impeccably mixed. Aline also worked as the American liaison for Parisian promoters Respect Is Burning, organizing tours across the country. With regular residencies in NYC, Neil has traveled the world showcasing his musical flare in such cities as New York, London, Toronto, Montreal, San Diego, Vancouver, Frankfurt, Hamburg, Las Vegas, Barcelona, Bruxelles, Los Angeles, Boston, Chicago, San Francisco, Zurich, Minneapolis, Lyon, Miami, Washington D.C, Paris, Caracas, Geneva, Philadelphia, Lausanne, Oslo, Mallorca, Prague, Copenhagen, Puerto Rico, and Seattle. He hosts a radio show every week on WNYU in addition to mixing alongside the creme de la creme of dance music DJs and artists such as Francois K, Laurent Garnier, Dimitri from Paris, Carl Craig, DJ Pierre, Daft Punk, Afrika Bambattaa and Jumping Jack Frost among others. "Anything with Chez Music's Neil Aline's name attached to it is a guaranteed go," says Tricia Romano of Village Voice. "Considering the current decline of club life in the City, Neil Aline is pumping needed life's breath into our endangered scene. He's taking the risks we need to take."

AYA:
Deep House music aficionados will instantly recognize Aya's voice from the dancefloor classic "Sweeter Love" by Blue6 off the Naked Music label. At the age of eighteen Aya left London for New York City, and began collaborating with Lenny Kravitz on "Thinking of You", a single from his album 5 - and with hip hop legends the Pharcyde, on their "Lab Cabin California" LP. Both went gold. Soon after, she started making tracks with Stuart Matthewman (renowned Sade guitarist and songwriter) and features on seven tunes on his upcoming Sweetback album. As a feature vocalist for many a dance music track, Aya is soon to release her own full length album. Aya's upcoming "Strange Flower" CD is a true labor of love - and honesty. It's that rare thing, a one-of-a-kind personal vision that could never happen under the auspices of a major label in this era of the lowest common denominator. In fact, she turned down several offers from majors to get her record made her way. After having found instant underground success - and profound musical chemistry - with producer Jay Denes of Blue Six, his Naked Music label was the perfect place for her unique talent to grow. Aya spent the better part of a year holed up in the studio with Jay, perfecting her "baby". Strange Flower is a one-off that could only have been made by someone from as distinctive a cultural mélange as Aya - born in London and raised by Singaporean grandparents, a teenage mother and Irish-Scottish father (both hippies at the time), she was destined to absorb disparate genres of music from birth. Early exposure to Chinese opera, Jimi Hendrix, Nick Drake, and Patrice Rushen evolved into a lifelong love affair with all transcendent music, and a belief that if music has the power to move you then its genre is irrelevant. The record is a living document of just this philosophy. From the opening Roy Ayers inspired "Lookin' For The Sun" to the ethereal "You're Not The Only One" to the album's closer, the straight-ahead ballad "Curtain Call", the only musical convention observed is a respect for the emotional demands of the song. There was as much attention paid to keeping the arrangements free of trend-of-the-minute ornamentation as there was to honing the songs melodically and lyrically in as unaffected a manner as possible.



FEEDBUCK GALORE:
Feedbuck Galore fuses abstract imagery, landscapes, and live cameras into a versatile and singular style which has been seen globally. A multimedia production company, known for their live vision mixing, video installation art and projections, they have created environments for events across the art and entertainment spectrum, from Todd Oldham fashion shows to exhibits at the Warhol Museum and the Billboard Awards plus collaborations with musicians as diverse as Neil Young, Jane's Addiction, Prodigy and Philip Glass. Founded by Missy Galore and feedBUCK in New York City in 1993, Feedbuck Galore has been a vital presence at the nexus of popular culture, performance, dance, fashion, music and art. From their Manhattan base they have expanded conceptually, stylistically and geographically with over 2000 shows, performances and exhibitions to their credit. Developing new ways to incorporate diverse elements into their visual mix is part of their continuing evolution. Beginning with the simple manipulation of analog video signal their work has grown to include dance, voice and digital processing. They have performed throughout America and Europe and were one of the first artists to use the Internet as a means of live international performance when they joined forces with the Future Sound of London in 1995 for cross continental audio visual jam session.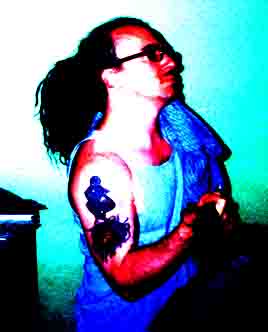 DJ Soy Sos:
Co-producer of Pittsburgh/NYC-based 3 Generations Walking, guitarist for local world-funk band Soma Mestizo, and past performer/organizers at element 5's Momentum series, Soy Sos is no stranger to the live music, DJ and art scenes in the city of bridges. In addition to collaborating with many local artists, Soy Sos is also active in the international arena working along side notable artists such as Asian Dub Foundation, Chuck D, Indigenous Resistance, Born Jamaicans, Adrian Sherwood and Joe Clausell. His Tuff Sound Recording studio has seen remixes for New Zealand-based Fat Freddie's Drop and legendary singer Sade with his own music appearing on international labels Spiritual Life, Wave Music, Dance Tracks, Yellow, and Natural Resource.
Jwan Allen is by far the 412 area code's top Techno guru. His signature mixes of electronic soul have been a mainstay in the Pittsburgh scene, weaving dance genres as diverse as broken beat, deep house, new wave, ital disco, and 80's electrofunk. Co-founder of the internationally acclaimed Technoir Audio music label and one of the organizers of element 5's Momentum series, Jwan Allen has been found DJing alongside other globetrotting DJs/artists such as Carl Craig, Titonton Duvante, Moonstarr, Domu, Anthony Shakir, Dan Bell, Daniel Wang, Shawn Rudiman and Detroit's infamous electronic duo Adult.

Exhibition support for "Flowers Observed, Flowers Transformed" is provided by The Roy A. Hunt Foundation.
Special thanks to Alcoa Business Service Center and The Rubinoff Company.
For more info:
the Andy Warhol Museum: http://www.warhol.org / 412-237-8300 (Tickets) / Information@warhol.org
or
element 5
Pittsburgh
http://www.elementfive.info
keep your good vibes strong....