Christiane D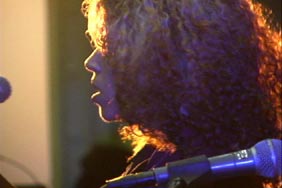 Christiane has curated many successful and controversial exhibits under the aupsices of Sun Crumbs.

She performs with Soma Mestizo; a Fourth World Beat Vodoo music group. (

http://www.somamestizo.com)and vocalist for live house ensemble 3_Generations_Walking.

She is also one of the new producers of The Dark Night Cabaret, which is a collaborative program between City Theatre and the local arts community to facilitate the development of new work.

She continues to be a member of Women of Vision, women artists of color, and sporadically shows her visual work when she can find the time to produce.

She has acted in several independent films and is currently finishing a science fiction screenplay.

As an individual artist, she co-authored a self-published book of poetry and art, Spinning Standing Still, with artist/poet Eden McNutt. A poetry book of devotional dialogues inspired by 15th century Sumerian folktale.

She has various projects and collaborations on the horizon.