Many cultural happenings in the PGH this weekend and next. Below are a few events from our alumni and collective happening this week and next. We'll be going Full Circle with DJs Soy Sos and Nate Da Phat Barber, going Static Free with legendary DJ Bobbito Garcia (aka DJ Cucumberslice from ESPN2), a Fashion Fundraiser for Katrina victims, spreading the vibration on FM and internet radio, and getting psyched for the next Sound Kitchen (if y'all remember the Momentum shows, Sound Kitchen is the next generation). We wish you all the positive vibrations as we transit through the autumn season. Keep your good vibes strong...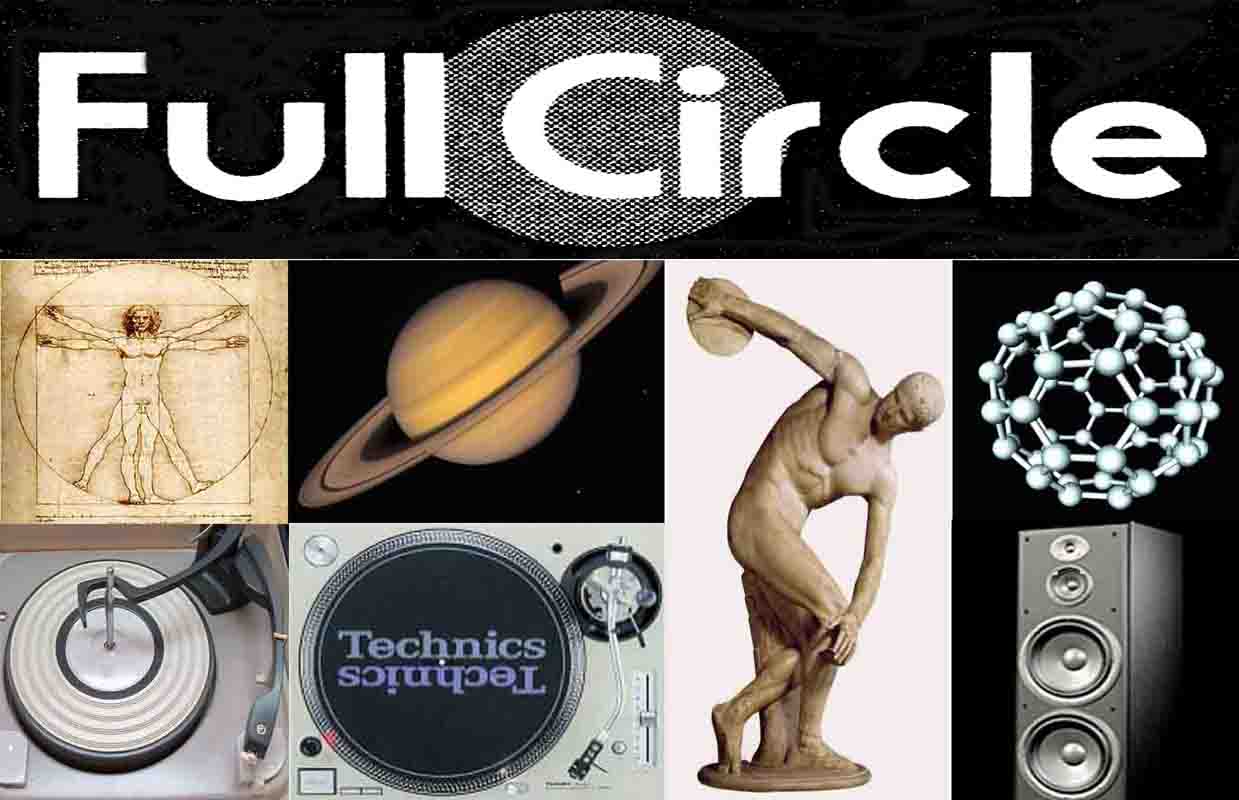 Thurs Sept 29 2005 (Thurs weekly)
FULL CIRCLE Thursday
with DJ Soy Sos and DJ Nate Da Phat Barber.
@ The Cabaret at Theater Square
655 Penn Ave at 7th St [Downtown, behind Katz Plaza]
A new weekly Thursday night of live DJs and Urban Sounds at the heart of the Downtown Cultural District. This week's features two of the most revered veteran DJs of the Pittsburgh scene: DJ Soy Sos, producer of the internationally acclaimed music ensemble 3 Generations Walking, and DJ Nate Da Phat Barber, founder and owner of the Natural Choice Hair Salon, multi-genre club DJ, and unofficial leader of the free world. This Thursday will be a showcase of deep house and soulful dance music under the stars and moon (i.e. giant disco ball) of the Cabaret. Free | 10pm-2am | 21+. Info: www.elementfive.info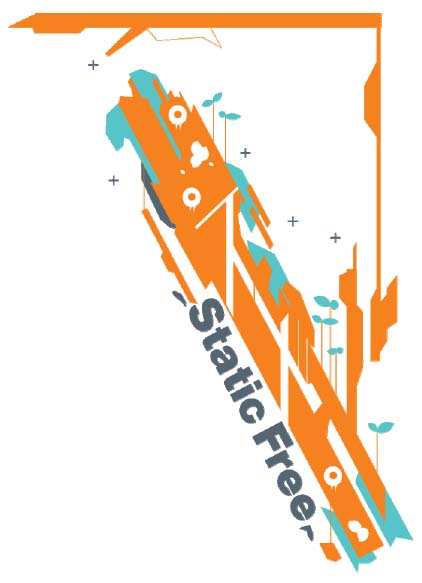 Fri Sept 30 2005
STATIC FREE: Opening Reception
@ SPACE
812 Liberty Avenue [Downtown]
Static Free is a contemporary fine art event to showcase the best and most well-renowned international and regional artists whose works have been directly influenced by urban culture. Static Free will raise awareness of the influence of street culture on contemporary art as a whole and will demonstrate how street art has become re-packaged and integrated into pop culture. From two-dimensional paintings, prints and digital works to the design of three dimensional sculptures, installations and exteriors, the street art genre has now integrated its visual language from our everyday environment into art, design, media, marketing and architecture.. Free | 5:30pm-11pm. Info: www.static-free.com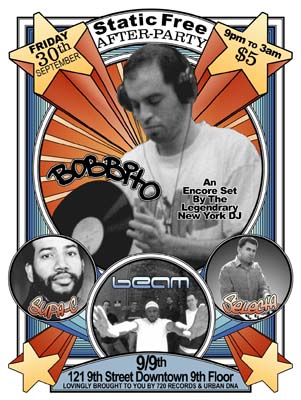 Fri Sept 30 2005
BOBBITO GARCIA (aka DJ Cucumberslice) for the Static Free After Party
@ Urban DNA Roof Top Patio
121 9th St [Downtown, Rooftop patio above Dowes on 9th]
720 Records is pleased to present an after party for "Static Free" featuring a DJ performance by New York City hip-hop legend BOBBITO aka DJ CUCUMBERSLICE at the Urban DNA space 9/9th in downtown Pittsburgh. Garcia is a VIBE magazine music columnist, Editor In Chief of Bounce: From the Playground basketball magazine, the author of "Where'd You Get Those? NYC's Sneaker Culture 1960-1987" (Testify Books) and the host of ESPN2's new "It's the Shoes" TV series. As DJ Cucumberslice, he is a world-class club DJ based out of NYC. He is a basketball performer at NBA halftime shows and on TV commercials for Nike and NBA on TNT. He is the announcer for EA Sports' "NBA Street" video game. For fun, he dances with the world-renowned Rock Steady Crew. Accompanying Bobbito aka DJ Cucumberslice will be two of Pittsburgh's urban-influenced music talents: SELECTA of Pittsburgh's 720 Records and BEAM, an acclaimed five-piece improvised jazz/funk ensemble featuring drummer David Throckmorton, DJ Supa C, bassists Paul Thompson and Steve Landay and vocalist Akil Esoon. $5 .
Fri Sept 30 2005
FLAUNT : A Fashion Fundraiser for Katrina victims
@ Eleven Contemporary Kitchen
1150 Smallman St [Strip District]
MANIAC MAGAZINE will FLAUNT their most controversial cover in history, remembered expicitly for the over-sized, candy LOLLIPOP. The original LOLLIPOP from the February/March EYE CANDY cover will be warded to the highest bidding player at FLAUNT on Friday, September 30th at Eleven Contemporary Kitchen. Proceeds will benefit Katrina Victims. MANIAC Magazine, in association with Sam Roberts of Fete Chicago and Big Burrito, invite the cutting-edge elite to FLAUNT their favorite fashion during he midnight hour. Doors open at 11pm for hors d'eourves and cocktails sponsored by Level Vodka and Veuve Clicquot. FLAUNT Fashion Show begins at 12midnight on the bar, featuring Original Cin, Zipper Blues, Denim Heaven, and Bombshell Boutique. Music by 7 UP. $25 (Proceeds benefit Katrina victims). Info: 219.741.8250.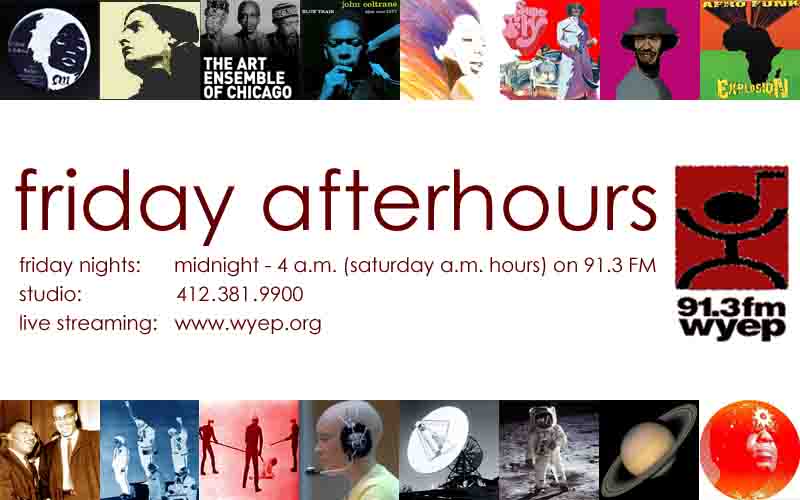 Friday Weekly
FRIDAY AFTERHOURS on WYEP 91.3 FM
with DJ Ashwin Tumne
Friday latenights: Midnight to 4am (Saturday morning)
on WYEP 91.3 FM / live streaming: http://www.wyep.org

The Afronauts have landed and a new vibration has hit the Pittsburgh FM dial. Defying the lines between genres, Friday Afterhours on WYEP takes a deep journey into the meaning of "rhythm" and "blues". An eclectic mix of rare funk, soul, reggae, salsa, blues, indian classical, afrobeat, jazz, electronic, acoustic, spoken word, gospel, batucada, bossa nova, indigenous world music, experimental dub, songs of the humpback whale, Muhammad Ali lecturing kids about tooth decay, Bill Cosby talking to kids on Drugs and the Secret Lectures of Commander X. With spotlights on cutting-edge local artists, live concert recordings, UFO sightings, Illuminated news and music from NYC to Berlin to Tokyo to Addis Ababa. For more info: Visit: www.wyep.org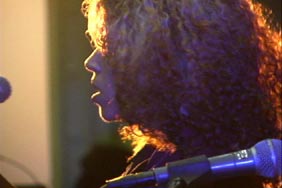 Sun, Tues, Wed, Thurs (Weekly)
SOUL PIECES on Pittsburghnetradio.com
with Christiane D
live streaming: http://www.pittsburghnetradio.com

Christiane D from Soul Mestizo presents sounds from her vault of inspiration. Deeply dissatisfied with the American plateau of auditory delight, she seeks a broader base of offerings. Sounds from across the globe, sounds from the Bridge city zone; genres don't exist or limit her. It's an eclectic mix ranging from Tibetan monks, German heavy metal, Bossa Nova Jazz, Middle Eastern trip hop, Japanese pop, to deep house; it's all in the mix. She presents music that you would not normally hear on corporate owned radio, music of the world, the world we live in.
For more info: Visit: www.pittsburghnetradio.com

Thurs Oct 6 2005
SOUND KITCHEN (monthly)
@ The Quiet Storm
5430 Penn Ave [Friendship]
Sound Kitchen is City Paper's monthly independent music series featuring local bands, DJs, emcees, acoustic musicians and spoken word artists. It is held the first Thursday of every month at The Quiet Storm. This month's event on Thursday, October 6 will feature: Da Button Pusha, DJ Sasan, Yah Lioness, Eviction Notice. Reception w/ free Quiet Storm munchies and Straub Beer begins at 7:30pm, show starts at 9pm. A suggested $5 per person donation goes to the artists. Sound Kitchen is sponsored by City Paper, Straub Beer, I.D. Labs and Quiet Storm. For more info log onto : www.quietstormcoffee.com/soundkitchen or email soundkitchen@pghcitypaper.com or call 412-316-3342 x138.
If you wish to be removed from our list, please reply back with "remove" in the subject heading. Thanks.