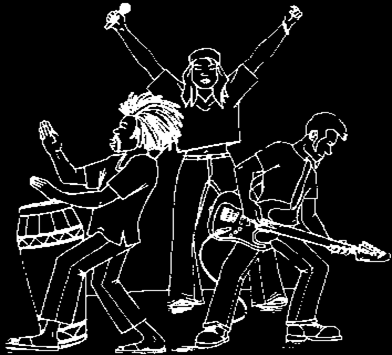 element 5
We are dedicated to bringing out the soul of underground culture in the city of bridges and helping build a community interconnected with the elements beneath the surface. Our goal is to promote collective creativity through a fluid intersection of people, places, ideas and vibrations.  In doing so, we seek to connect independent arts and culture to the urban development of Pittsburgh and unlock the potential energy through the poetry of people in motion….
July 31st, 2002 Update – Thanks to everyone who came to check out Momentum this past Saturday, August 3rd @ The Quiet Storm.  A very special thanks to all the artists who made it happen. Our apologies for the late updates.  For comprehensive event listings dig through the Music and Culture sections of this website.  In addition, the Bridgespotters , Ground Zero , and MAP maintain regular email lists of events in the Steel City.  MAP also maintains a comprehensive database of music venues, bands and event promoters. As always, your feedback is very important to us – please feel free to drop us a line anytime.
Thank you for checking out element 5.
Some community messages:
· The state of public transit in our city:   Save Our Transit
· The Bridgespotters:  A special Message
· Cycling in the City:  The Better Way
· Transportation:  Forum, Mon-Fayette Expressway, other info
· Zoning:  Issues for non-profit organizations
Suggestions:          element5ive@yahoo.com
='
element 5 picks [Aug 7th-Aug 13th, 2002]:
[updated every Wednesday, Thursday, & Friday]
Wed Aug 7th - Laketrout [sophisticated electronic-influenced grooves ] & Beam ['experimental hip-hop' and 'improvised drum and bass']. live musicians, without a drum machine in sight. @ Rex Theatre. 1602 E. Carson St. [South Side]. $12. www.beaminfo.com/home.html and www.laketrout.com
Wed Aug 7th - Wednesday Live hip-hop/soul Jam Session . This week Feat. the Rain Quartet.  Hosted by KL of Bridgespotters. Open Mic for Emcees | Poets | Vocalists  $5/$3 Ladies9pm-1am. Shadow Lounge. 5972 Baum Blvd. 412.363.8277.
Wed Aug 7th - "Salsa Outside".  Dance on an outdoor deck to salsa music from to .  Free parking, free admission and free salsa lessons () taught by Jesse Branas and Amanda McKee.  D'Imperio's. 3412 William Penn Hwy. Monroeville. 412-823-4800 or visit the Pittsburgh Salsa Web.
Thurs Aug 8th - The Art of Lighting Design. The Mattress Factory and Pittsburgh New Music Ensemble (PNME) present a free Thursday sneak preview of PNME's world premiere compositions in conjunction with guided tours of the Mattress Factory's blockbuster exhibition, James Turrell: Into the Light. 5-7pm. @ Mattress Factory. 500 Sampsonia Way [northside]. 412-231-3169 and www.mattress.org
Thurs Aug 8th - Designing Oakland Mini-Charette. The public and professionals join together for guided brainstorming on design solutions for Pittsburgh's Oakland community. A wrap-up of the session will be presented during a September 7 symposium. Presented in conjunction with Designing Oakland, the Heinz Architectural Center's new exhibition about planning and architecture in this important Pittsburgh cultural and civic center. FREE. 6pm. 4400 Forbes Avenue Pittsburgh, PA 15213. 412.622.3131 or www.cmoa.org
Thurs Aug 8th – Shango [Live Soul-Jazz]. @ Shadow Lounge. 5972 Baum Blvd. 412.363.8277. $5.
Thurs Aug 8th until the rest of the Summer. 2002 Summer Film Series at the Byham Theater, Downtown. Presented by The Pittsburgh Cultural Trust and Pittsburgh Filmmakers. Thu, Fri & Sat evenings at , Sun afternoons at . Sat evenings are double features - one price for two films. Aug 1, Thu - The Producers (the movie). Aug 2, Fri - Moulin Rouge (2001). Aug 3, Sat - Hitchcock double feature - Notorious and Shadow of a Doubt. Aug 4, Sun - To Kill a Mockingbird. http://www.pghfilmmakers.org/
Thurs Aug 8th - CLub Havana weekly. House/Techno/ and other groovy music courtesy of DC Space, Jason C, and weekly guest DJs. $2 Yuengling special. FREE. 10pm-2am. 5744 Ellesworth Ave. one block from Negley, behind the UniMart. [Shadyside].
Fri Aug 9th - ONYX Friday! Duets 212 Sixth Street (Downtown) -In the upstairs balcony area- 6:00 pm to 8:00 pm -Complimentary buffet begins at 6 pm. http://www.onyxalliance.com/  
Fri Aug 9th – BMWT: Black Men Working Together. After work soother. @ Omni William Penn Hotel, . No cover
Fri Aug 9th – Summer Studios Student Exhibit 2002 Reception. 7PM. MCG Arts presents Summer Studios Student Exhibit 2002 @ Manchester Craftsmen's Guild August 2 – September. 20. On display is work in ceramics, photography and digital imaging created by 13-18 year olds enrolled in MCG's free summer arts program. @ Manchester Craftsmen's Guild, 7PM. 1815 Metropolitan Street [North Side]. FREE. 412-322-1773 or www.manchesterguild.org
Fri Aug 9th – Fundraiser for reprazenting at the Millions for Reparations march in Washington D.C. Aug 17th.  Feat.  DJ Bus Pass spinning rare groove funk and soul and appearances by Middle East. @ Shadow Lounge 5792 Baum Blvd at South Highland ? Donations collected at the door.
Fri Aug 9th through 25th - Indian Ink by Tom Stoppard. Indian Ink is about cultures in love and in hate with each other, about sisters, muses, about how we tell each other how to live to reassure ourselves that we are living rightly. It's about how strong a life's force can be, that it would merge the present and the past into an endless state of moonlight scented with sandalwood.August 9 - 25, 2002 with rain dates on the dark days (Aug. 12, 13, 19). Outdoors at Allegheny Cemetery, 4734 Butler Street [Lawrenceville]. TICKETS: $20, with a limited number of $15 student tix; reservations through ProArts: 412-394-3353 or www.quantumtheatre.com  . Check the cover story in this weeks' City Paper: http://www.pghcitypaper.com/cv80702.html
Fri Aug 9th - Sarrogita substitute: To put in the place of another as a successor. This Closing Reception is a retrospective incorporating past performances and present interests, including works by recent collaborators. With sounds from: Pittsburgh trio LORELEI. 7-11pm. Refreshments provided, but please feel free to BYOB! www.garfieldartworks.com
Fri Aug 9th – Fyah Wyah & The Universal Roots, The Wisdom Band. Live Reggae music.  @ 1023 Backstage. 1023 Forbes Ave [the old Shanghai Kelly's by the Duquesne University Campus]. 412-227-6562
Fri Aug 9th through 12th - Shadyside Summer Arts Festival. Fifth & Penn Avenues, Shadyside. FREE, 412-621-8481, http://www.shadysideartsfestival.com/events.html
Fri Aug 9th – until closing - The Fast Runner (Atanarjuat). This highly anticipated film is the epic tale of native life in the Arctic and the first feature made in the Inuit language. Set at the dawn of the first millennium, it tells the gripping story of an Inuit camp besieged by jealousy, power struggles, betrayal and revenge. Yet this community - whose biggest struggle is surviving the cold -shows they have resilience, spirit, and are ultimately dependent on each other. The imagery is absolutely stunning. In Inuit with subtitles. (Directed by Zacharias Kunuk; Canada; 2002; 172 min). @ The Regent Square Theater. 1035 S. Braddock. Call 412 682-4111 for times, or http://www.pghfilmmakers.org/filmsched.html
Sat Aug 10th -  Steel Valley Arts Council (SVAC) presents the Homestead Sidewalk Art Project. Weekly Outdoor Art Market--Saturdays 12noon to Promote, Demonstrate, Busk, Display and Sell your work in a high traffic area along the entrance to the Waterfront complex. No fees, vendor license not needed. Manditory application process (allow at least 2 weeks for clearance). MORE INFO AND APPLICATION: CLICK HERE .  Questions? Contact: Sean Thomas McBride. 412-462-4710 or barnstormer@luxenet.com 
Sat Aug 10th - Fashionistas Alert! Stop starin' and join the Good Little Girls to celebrate five issues of fashion and fabulous-ness! Try and out-dress one another!  Accessorize madly! Paint the mannequin head! Good Little Girls 'Zine Release Party and Fashion Show. 31st St. Pub $6.00 / Free 'zine with admission 21+
Sat Aug 10th – In the V.I.P. room only of "M" – Deep House with Rotating Residents. Vinny, Eric Justin, Enrique, Centauri, John Eperjesi, DC Space aka Black Mike, Ed-Umm, & Kerem. 1600 Smallman St. 412-261-2232
Sat Aug 10th – Hush Hush – The Weekly private party. Resident DJs Centauri, Kerem, Vinny, & Eric Justin spinning Chill House, Acid-Jazz, Down Tempo, & Soul. Every Saturday . @ Muse. 228 S.Highland Ave [Shadyside]. $2 all Drafts & Well Drinks until . Drop by Hypervinyl Records for your membership card.
Sun Aug 11th - Sonnatang Sundays. Resident: DJ Centauri. Spinning chilled out, soulful grooves to go with your Sunday afternoon coffee. Bring a book or a Friend along. 3pm-7pm. Coca Lounge. 3811 Butler St. 412.621.3171.
Sun Aug 11th – THE ALL STAR GAME. This night brings out the best of the best djs spinning deep house, old soul, disco, afro beat and anything else with a vibe. Drink special: 1/2 off all Martins from - . PUB I.G on the lower level of India Garden, 328 Atwood St (412)682-1900.
Sun Aug 11th - Bros. Peck Jazz Satellite. Shadow Lounge.  5972 Baum Blvd [corner of Baum & S.Highland]. - 412.363-8277. 
Mon Aug 12th - Revolve w/ Resident DJs Kerem & Kaleo. Guest DJs weekly. @ Zythos. 2108 E.Carson St. [South Side]. 412.481.2234.
Mon Aug 12th - The Crawford Grill IS OPEN every Monday night from 8-12.  NO COVER!!!   Live Jazz Feat: Kenny Blake - Sax. Jeff Grubbs   -  Bass. James T Johnson III - Drums. Howie Alexander – Piano Oakland, 412-471-1565.
Mon Aug 12th – Live Jazz Jam Session @ the Shadow Lounge.  5972 Baum Blvd [corner of Baum & S.Highland]. 7:30pm-11pm. 412.363-8277.
Mon Aug 12th – Phat Man Dee Presents…. Spotlighting local and visiting musicians.  @ LAVA LOUNGE.  2204 E.Carson St. [Southside].  412-750-6959.
Tues Aug 13th - Spoken Word Tuesday (open mic). Quiet Storm Cafe. 5430 Penn Ave. Pittsburgh. 412.661.9355. http://www.quietstormcoffee.com/  .
Tues Aug 13th – Velvet w/ your resident hosts Adam Ratana (Chemlab) and Jwan Allen (Technoir-Audio). Guest DJs weekly spinning the best in soulful dance music. ABSOLUTELY FREE! Check out the $1 Yuengling/Iron city special from -. @ Zythos. 2108 E.Carson St. [South Side]. 412.481.2234. More info: http://ratana.chemlab.org/velvet
Tues Aug 13th – 720 records presents a night of rare funk soul express. Featuring resident DJ Selecta and regular guest DJs to fill your week with soulful vibes. FREE. 10pm-2am. 5744 Ellesworth Ave. one block from Negley, behind the UniMart. [Shadyside]. 720 Records
Tues Aug 13th - Reggae & Dub.  Feat. The Reggae Bus Crew. DJs spinning the Deepest Dub and the Roots Reggae. Chill atmosphere. Every Tuesdays @ Pub. I.G. 328 Atwood St [Below India Garden in Oakland].  412-682-1900.
[MORE PICKS TO BE POSTED THIS FRI. For more comprehensive event listings, dig through the Music and Culture sections of this website]