element 5 + Mini M present...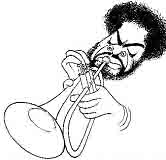 The Jazz Be
Opening Party
Thurs May 1st, 2003
@ Club Havana
5744 Ellsworth Ave [Shadyside] | 412-661-2025
10pm-2am | FREE!
No Cover | 21+ | I.D. required
$2 Yuenglings + $3 Sangrias
Open Patio
Featuring DJs:
Ed-Umm (The Andy Warhol Museum)
Soy Sos (Soma Mestizo | 3 Generations Walking)
Jwan Allen (Technoir-Audio)
Showcasing the best in Jazz, Acid Jazz, Jazz Funk, Soul Jazz, Tech Jazz, Nu Jazz and 21st Century Dance Floor Jazz.
Jazz is not just a musical expression. The evolution of Jazz has been the evolution of dance culture. From the early marching band origins of Jazz to ballrooms that once hosted the legendary orchestras of Duke Ellington & Count Basie. From Latin and Afro jazz fusions to the underground NYC and London dance club cultures. The sound and spirit of Jazz is part and parcel with DJ Culture in the 21st century. Join the DJs of element 5 as we open The MiniM Jazz Be Jazz Festival in the spirit of the boogie.

This is an opening party for
The
Mini M
Jazz Be Jazz
Festival

Fri May 2nd | Sat May 3rd
@ The Quiet Storm Coffeehouse
Co-Produced by: element 5

Sponsored by: DUQ 90.5 FM + The Sprout Fund
Festival Info: 412-661-9355 or www.elementfive.info
keep your good vibes strong!
element 5:
Pittsburgh, PA
www.elementfive.info